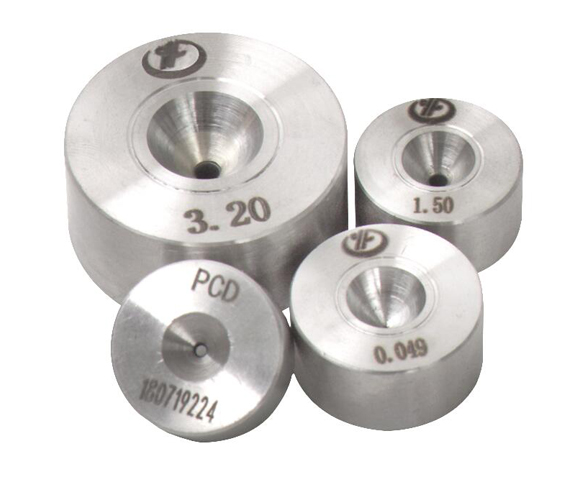 PCD dies|Polycrystalline Diamond Dies Description
PCD Dies' core is supplier by Sumitomo or GE,which are manufactured by mixing the selected diamond powder of specific grain size with metallic bonding material and sintered at high temperature and ultra high pressure. This results in a homogeneous very hard and highly abrasive resistance blank having high thermal conductivity like natural diamond. Different blank dimensions and grain sizes are available to suit almost every drawing requirement.

Our company uses the different type the crystal combination diamond as a raw material,one kind of superfine even pellet passes through the high temperature, the piezo-crystallization becomes, may guarantee that the wire rod out of roundness and has the surface smooth finish to be high, the wired rawing life is long, is very difficult in the long time drawing process to present the mold attrition and the flat wire phenomenon.

Advantages of PCD Die
- Uniform pricing.
- Cost per kg of wire drawn is much less compared to any other die material.
- Withstands rough and tough working.
- GAssured number of re-cuts and can be resized to maximum recommended size.
- Lower inventory.
- No premature breakages.
- Less repairs and less reconditioning work.
- By correct selection of grain size, required finish can be achieved for different drawing applications.
- With the increased usage, the cost of PCD blanks/dies is decreasing.