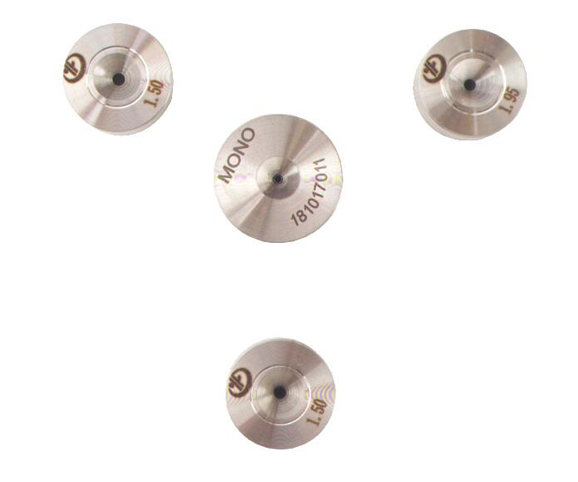 Name:Single Crystal Diamond Dies
Explain:Natural Diamond Dies. Single Crystal Synthetic Dies
Sizes: Available from:0.02 to 0.65 mm
For fine wire and ultrafine wire applications demanding a superior wire surface finish, nothing performs better than a single crystal natural or synthetic diamond die.
Typical Applications of Single Crystal Diamond Dies
Used in fine and ultrafine wire sizes, or as finishing dies when wire surface quality is critical.
Examples:Magnet wire, tungsten wire, plated-copper wire, stainless steel wire and wire drawn of precious metals.
Advantages of Single Crystal Diamond Dies

Best surface finish of any die material available.
Lowest die pull and friction.
Excellent recutability.
Diamond x-ray orientation provides greater consistency, more predictable wear and more pounds of uniform wire per die.
The man-made unit crystal diamond wire drawing dies majority is the lb diamond, also includes the nitrogen impurity, but by scattered substitution form existence. Therefore the stable property is its chief feature.
Its physical property is:
Nitrogen content: 100-150ppm;
Work area metal impurities content: <50ppm;
Density: 3.52g/cm3;
Elasticity coefficient: 1.50GPs;
Thermostability: >1100 C
This factory uses 111 man-made unit crystal diamond semifinished materials production the unit crystal diamond wiredrawing mold, the localization is precise, the stable property, is suitable similarly in the surface quality requests the high each kind of wire rod the drawing, and has the product uniformity to be good, is advantageous for the production control the prominent merit.
Mold size range: 0.025mm--0.65mm